Report
Regional Report on Women in Tourism in Asia and the Pacific
Regional Report on Women in Tourism in Asia and the Pacific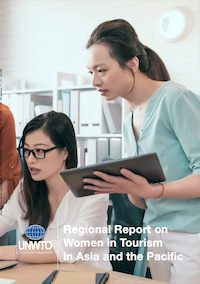 Women make up 52% of the tourism labor force in Asia and the Pacific.
However, women in tourism do not necessarily receive the associated benefits of employment because they tend to seek seasonal and flexible work as they also take care of their families. They also grapple with inadequate parental leave provisions; limited penalties for workplace sexual harassment; and the lack of policies that secure maternal and parental leave. 
This report examines the participation of women in the tourism sector and assesses the contribution of tourism to advancing gender equality and empowering women and girls. It features Asian Development Bank support for these objectives in the Lao People's Democratic Republic and Viet Nam.
Contents
Foreword 
Executive summary
Chapter 1: Introduction
Chapter 2: Employment
Chapter 3: Entrepreneurship
Chapter 4: Education and training
Chapter 5: Leadership, policy and decision-making
Chapter 6: Community and civil society
Chapter 7: Conclusions and recommendations 
Published November 2022.
Source: United Nations World Tourism Organization 
Download (3.35 MB)