Reviving Travel, Sustainably
The unprecedented COVID-19 pandemic reversed decades of robust tourism growth in Southeast Asia, causing widespread business closures and millions of job losses. While the pause in travel and tourism has brought economic hardship and isolation to many communities, it also offers a unique opportunity for industry stakeholders to address the structural issues undermining sustainability in the region.
What We Do
The Southeast Asia Sustainable Tourism Hub is anchored in ADB's Southeast Asia Department, Urban Development and Water Division. It brings together diverse expertise from within and outside of ADB to help clients develop and finance innovative tourism projects, build destination management capacity, and provide knowledge solutions that align with ADB Strategy 2030 and the Sustainable Development Goals. Our regional perspective, strong country presence, and partnerships enable us to deliver quality development solutions for Southeast Asia's tourism industry. 
Financing and Knowledge Partners
The technical assistance facility will help countries in Southeast Asia prepare sustainable tourism projects and catalyze financing to support them. It supports regional priorities to revive tourism, develop green and resilient urban and transport infrastructure in secondary cities, accelerate inclusive digital transformations, and mobilize domestic resources.
The project is financing climate-resilient roads, water transport infrastructure, urban infrastructure, and capacity development needed to boost and better manage tourism in Cambodia's coastal areas, Lao PDR's Champasak, Luang Prabang, and Vientiane Provinces, and several secondary towns in Viet Nam.
The Community-Based Tourism COVID-19 Recovery Project will help communities in Preah Vihear and Takeo provinces generate local jobs and income by improving tourism services infrastructure, enhancing visitor experiences, and strengthening tourism supply chain linkages.
ADB and Thailand organize training to help tourism MSMEs adopt digital technologies to analyze consumer data, market services, and boost profitability.
The 2‑year communications plan seeks to build traveler awareness that destinations in the subregions are open, safe, and easy to visit.
The islands need to determine their capacity limits for tourism to reduce pressure on marine ecosystems.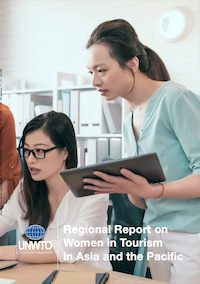 This report examines the participation of women in the tourism sector and assesses the contribution of tourism to advancing gender equality and empowering women and girls. 
This publication, which provides a tourism recovery communications plan and toolkit, was jointly prepared by BIMP-EAGA and IMT-GT.
This publication examines tourism in Asia and the Pacific and how to reset the sector to contribute more effectively to the Sustainable Development Goals.